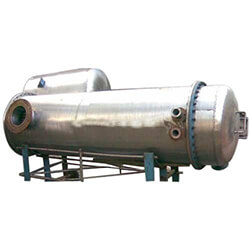 Aries Fabricators are widely known in the industry for manufacturing reboilers for various industrial purposes. Our wide array of qualitative industrial Reboilers is a heat exchanger that is used to provide heat to the bottom of Industrial distillation columns. It efficiently boils the liquid from the bottom of a distillation column and generates vapors, which are returned to the column to drive the distillation separation. We specifically design the layout of re-boiler and fabricate it in dimensions as specified by clients. Our reboilers are available with 60.3 mm OD SS tubes and sleeves. Customization can be done as per clients requirements.
Need Urgent Supply? Enquire Now
We manufacture and export Industrial Boiler across the globe, we stock ready for urgent supplies.
Features:
Cost efficiency

Durability

Reliability

Accuracy
Solutions for Industry:
Petroleum Refinery
Chemical Plant
Natural gas processing
Food Processing unit
Process Equipment
Need Urgent Supply? Enquire Now
Give us a call or send us a quick message and our customer representative shall get back to you soon.