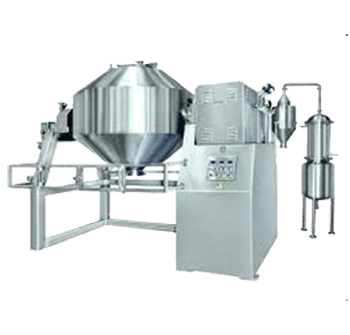 Aries Fabricators Pvt Ltd. make Rotocone vacuum dryers are multipurpose drying unit that are extremely useful for uniform and low temperatures drying of heat sensitive chemicals, pharmaceutical formulations, fine chemicals etc. It has double conical vessel with rotating system and vacuum solvent recovery system. As the dryer is rotating, there is no charring or retention of product. the result is that one can change the material to be dried without much a do. The Rotocone vacuum dryers rotates at a very low speed (5 to 15 rpm) and thus has very low wear and tear and requires very little maintenance. This machine is ideal for crystalline products, granules used in chemical, pharmaceutical and food industries.
Features:
GMP Models for final Pharma products.

Totally sealed.

Quick loading and unloading.

Energy saving.

M.O.C : Mild Steel grades, Stainless Steel grades and haste alloy choppers can be provided.
Need Urgent Supply? Enquire Now
Give us a call or send us a quick message and our customer representative shall get back to you soon.