Aries Fabricators limpet reactor/coil reactor is made by welding a half pipe around the outside of the vessel to create a semi circular flow channel. The heat transfer fluid passes through the channel in a plug flow fashion. Large reactors use several coils to deliver the heat transfer fluid. Like the single jacket, the temperature in the coil/limpet reactor is regulated to control heating or cooling. The plug flow characteristics of a limpet/coil reactor permits faster displacement of the heat transfer fluid (typically less than 60 seconds). This is desirable for good temperature control. It also provides good distribution of heat transfer fluid which avoids the problems of non uniform heating or cooling between the side walls and bottom dish.
ACTUAL MACHINERIES USED IN INDUSTRY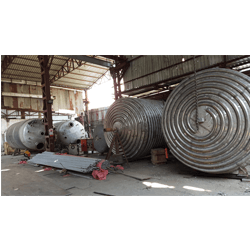 Manufacturers of Limpet Coil Reactors Aries Fabricators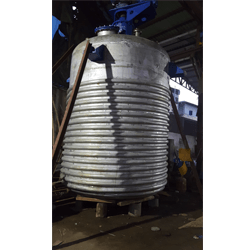 Manufacturers of Limpet Coil Reactors-2 Aries Fabricators
Need Urgent Supply? Enquire Now
We manufacture and export Limpet Coil Reactor across the globe, we stock ready for urgent supplies.
Technical Features:
Capacity Range: 450 to 15000 liters
GMP and non-GMP models available
Custom build – Aries Recommended or as per client drawings

M.O.C = Mild Steel/Stainless steel

Stirrer Types:
Anchor stirrers used for high density materials moving at slow RPM (15 to 60 RPM Maximum)
Propeller stirrers used for medium density materials moving at steady RPM (100 to 300 RPM Maximum)
Turbine stirrers used for low density materials moving at high RPM (100 to 1000 RPM Maximum)
Cutter stirrers used for particular processes moving at very high RPM
General Features :
Best to be heated using steam and cooled using chilled water
Durable standards
 Sturdy construction
High mechanical strength
Optimum functionality
Weather proof
 Temperature resistance
 Application specific design
 Corrosion resistant
Need Urgent Supply? Enquire Now
Give us a call or send us a quick message and our customer representative shall get back to you soon.