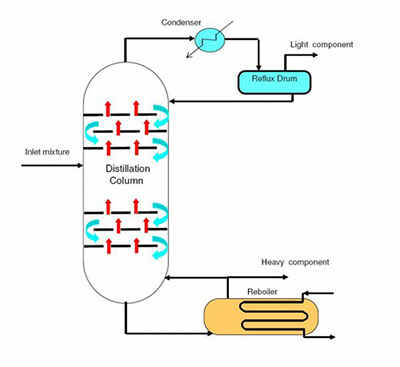 Aries Fabricators Pvt Ltd. is a leading manufacturer of distillation columns and evaporators. We supply a wide range of materials and diameters to suit each process requirement. We also check on the design considerations, such as seismic and wind load conditions, at the precise location where the utensils is to be installed. Our knowledge includes the use of many different types of column internals.
Our range of distillation columns provide high efficiency and customization. Designed to deliver desired results in separation of liquids. 
We posses expertise and acumen in setting up:
1. End to 'End' Distillation Unit:
Aries Fabricators specializes in the manufacturing of best quality distillation unit. Our product range, which is being used by multiple research organizations, includes ultra pure water distillation & reverse osmosis unit and quartz distillation unit. Our extensive range of distillation unit can be further categorized under the following heads such as water distillation unit and automatic distillation unit. We provide standardized solutions to building of tissue and molecular culture and design our products as per the needs of our clients.
2. Multi Purpose Distillation Plant:
Our multipurpose Distillation Plant has a unique feature where we perform hydro distillation, steam distillation and other kinds of distillations all in one plant which is useful for the leaves, barks, roots, grasses, rose petals etc.
Aries Fabricators specializes in executing turnkey projects/plants & equipment for chemical & pharma, drug & allied industries.
3. Technical Features:
M.O.C = Mild Steel/Stainless steel

Need Urgent Supply? Enquire Now
Give us a call or send us a quick message and our customer representative shall get back to you soon.