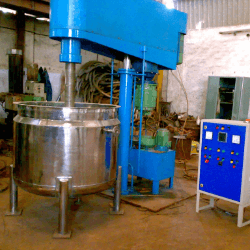 Twin shaft disperser machine is suitable for mixing of ointments, inks, sauces, pastes, foam, used in the pharmaceutical, food, chemical and allied industries. The mixing blades revolve in opposite direction to sweep the entire circumference of the vessel as well as rotate around its own axis. Intimate mixing is achieved in short intervals. The mixing elements are raised vertically by an electric or hydraulic lifting or lowering arrangement. The vessel can be removed and next batch can be kept ready for processing in these Twin Shaft Disperser. Mixing elements can be cleaned completely with vessel removed or by rotating the blades in the vessel loaded with solvent. A high speed emulsifier is provided in the center of Twin Shaft Disperser machine for thorough mixing of the mass.
Technical Features:
Construction:
Stainless Steel
Mild Steel
Control Panels:
Multi speed control using suitable Variable Frequency Drive and Motor for both high and low speed stirrers.
Safety Controls:
Limit Switch for Hydraulic system
Emergency stop.
Handling:
Hydraulic lifting & lowering (ON/OFF).
Automation and logic:
As per clients requirements
Features:
Better Services Lives
Robust Construction
Easy Installation
Safe Operations
Corrosion & abrasion resistant surface finish
Need Urgent Supply? Enquire Now
Give us a call or send us a quick message and our customer representative shall get back to you soon.