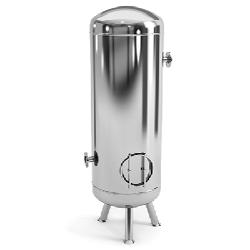 Aries Fabricators are one of the leading manufacturer & supplier of a wide range of Air Receivers. These Air receivers are properly engineered by our experts and are designed under stringent production codes with features like mounting safety and control devices. It can also be manually or automatically drained by an auto drain valve as per your convenience. Air Receivers also helps minimize power costs and our company can also recommend optimum volumes for your Compressed Air System.
Properly engineered & sized to take into account fluctuating air demand of the user devices. Designed & manufactured under stringent fabrication codes with provision for mounting safety & control devices.
Features:
Built as per Indian/Foreign Standards
Capacities can be designed as per client's requirements
Available in horizontal as well as vertical models
Available Sizes:
250 / 500 / 750 / 1000 / 1500 / 2000 / 3000 / 4000 / 5000
Need Urgent Supply? Enquire Now
Give us a call or send us a quick message and our customer representative shall get back to you soon.