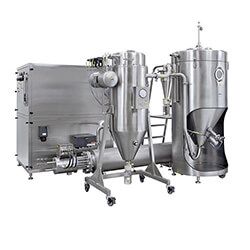 Paddle Dryers is utilized in varied industries to extract and obtain dry powder either from solutions or wet cake. Operational efficiency is high and the costs incurred are low with this dryer when compared to other dryers in the market. The mechanism, involves a closed system wherein hot water, steam, or hot fluid is used as a heating medium within the jacket, in the hollow paddle as well as in the hallow shaft. This paddle dryer includes vacuum pump, condenser, receiver and dust collection.
The wet feed is continuously agitated by the heated rotating blades, thus exposing new areas to heating surfaces. This results in the moisture boiling off and rendering the wet material dry to the required degree.
Need Urgent Supply? Enquire Now
We manufacture and export Paddle Dryer across the globe, we stock ready for urgent supplies.
Special Features:
Suitable for processing entire range of feeds, except liquids
Granular and powdery product
Very high evaporation capacity
Very high thermal efficiency
Partial drying possible
Continuous Operation
Compact Installation
Typical Applications:
Crystalline Solids
Pasty Solids
Sludge
Agro Waste
Magnesium Carbonate
Polypropylene Beads
Technical Features:
Externally heated through jacket/limpet coils. Internally heated agitator shaft for maximum heat transfer area.

Dries and conveys for discharge.

Efficient Rotary joint to inject heating media into agitator and remove condensate.

Pre-piped with heating medium inlet to dryer and condensate out to headers.

Quick opening manual discharge valve and changing door for minimum manual handling.

Chain sprocket drive through speed reducers and motor.

Direct drive through speed reduced motor.

Control Panel totally pre-wired for ease of performance taking into account safety factors.
Need Urgent Supply? Enquire Now
Give us a call or send us a quick message and our customer representative shall get back to you soon.