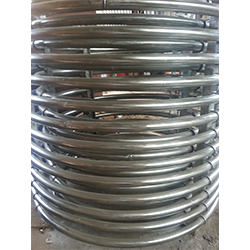 Aries Fabricatiors internal Heating & Cooling Coil Reactor are generally preferred where highly exothermic reactions are taking place, to control the temperature. Internal coils can be either helical or axial and they considerably affect the flow inside the reactor because they impose an additional resistance to flow circulation. The performance of these types of reactors is greatly affected by the location of their internals and their mode of operation. This means that the number and location of the coils, as well as tube radius and coil helix diameter are important design parameters for such systems. All these factors have an influence on the flow and heat transfer inside the tank. The amount of coils and their design will determine the heat transfer area inside the tank. On one hand, it is desirable to have as many coils as possible for it increases the heat transfer area but, on the other hand, the smaller the number of coils and its diameter is, the better the circulation and mixing inside the tank. These reactors are designed keeping in mind, the process requirements.
Need Urgent Supply? Enquire Now
We manufacture and export Internal Coil Reactor across the globe, we stock ready for urgent supplies.
Technical Features:
Capacity Range: 450 to 15000 liters
GMP and non-GMP models available
Custom build – Aries Recommended or as per client drawings
Stirrer Types:
Anchor stirrers used for high density materials moving at slow RPM (15 to 60 RPM Maximum)
Propeller stirrers used for medium density materials moving at steady RPM (100 to 300 RPM Maximum)
Turbine stirrers used for low density materials moving at high RPM (100 to 1000 RPM Maximum)
Cutter stirrers used for particular processes moving at very high RPM
General Features :
Best to be heated using steam and cooled using chilled water
Durable standards
 Sturdy construction
High mechanical strength
Optimum functionality
 Weather proof
 Temperature resistance
Application specific design
Corrosion resistant
Need Urgent Supply? Enquire Now
Give us a call or send us a quick message and our customer representative shall get back to you soon.